Central Mass Auctions, Inc. serves Central Massachusetts and outlying areas. We are located in Worcester, Massachusetts area just a short drive from the Brimfield Antique Flea Market. We service Boston, Metro-West, the North Shore, South Shore, Western Massachusetts and all of New England.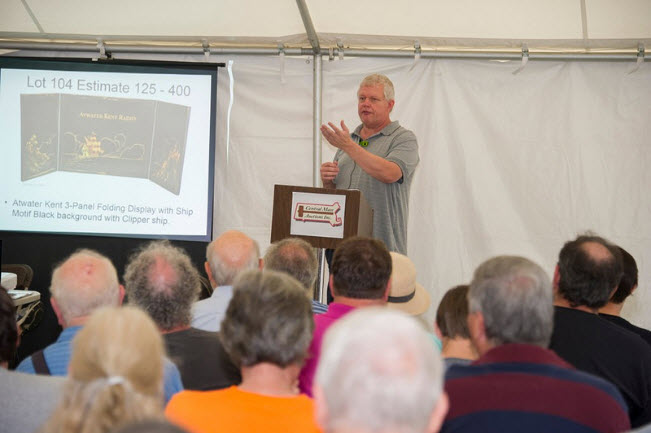 Our Massachusetts estate auctions showcase a variety of quality antiques, collectibles and estate items that we find throughout the Northeast. Auctioneer Wayne Tuiskula (MA License # 2591) has been an antique dealer since the late 1980's. Before earning his auctioneers license, he also worked full time in the software industry during this time previously working as a Software Quality Assurance Team Leader. He earned a BS in Business Administration from Fitchburg State College and a Masters Degree in Business Administration from Nichols College in Dudley, MA.
Wayne sold antiques at the Brimfield Flea Market and other local shows. He's handled many local estate sales and Massachusetts estate auctions. He rented space and sold items in Brickyard Place in Worcester, MA and Wayside Antiques in West Boylston. He and some friends also opened and managed an antique shop in Charlton called the Antique Outlet. He sold items using the Internet newsgroups prior to eBay and became an eBay seller in 1997. He contributes articles to Auctionbytes.com an online guide to auctions and collectibles. He has evaluated items for the public at Appraisal Days at The Worcester Senior Center, The Lodge at Eddy Pond in Auburn, MA and Tatnuck Park Assisted Living Facilities. He also designed and taught the "Evaluating Your Antiques" class for the Worcester Public Schools "Night Life" Adult Education program. He has been a collectibles appraiser on PBS Antiques Roadshow.
If you're looking for auctions in MA or in need of help with estate sales in MA, contact us today by email or calling us at 508-612-6111.
At Central Mass Auctions, Inc., we use a computerized auction accounting system. The selling price is recorded immediately when an item is sold. When a bidder is ready to leave, they simply go to the clerk, where they are given a complete list of the items that they have bought. This system ensures accurate billing.
For more information about About Central Massachusetts Estate Auctions, please call 508-612-6111 or e-mail us.