Comic books: get grown-up money for your collection
If you've maintained or kept comic books that are in outstanding condition, then you might just have an asset worth auctioning. For example, an Action Comics Issue #1 recently sold at auction for $956,000.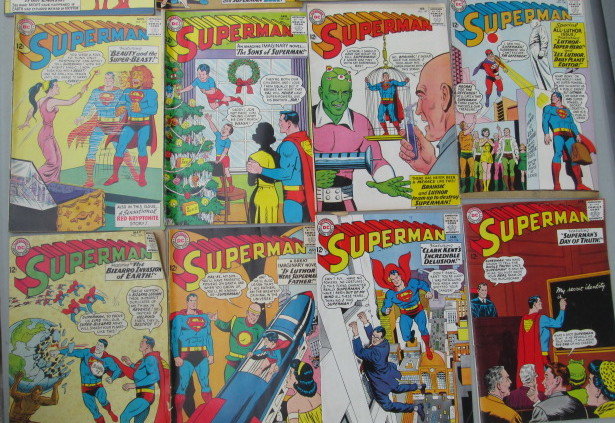 As with most collectibles there are many factors that go into a comic book's value. Comics from the "Golden Age" of comics (ranging from the 1930s to the 1950s) are generally the ones that are the most desired by collectors. The print run can also have a big impact—rarer comics are more valuable. The condition is a huge concern as well. Comics which are graded by the Certified Guaranty Company (CGC) may have a bit of an edge when it comes time to sell.
Unless you are an expert, collector, or enthusiast you'll generally tend to either undervalue or overvalue your old comic books. We've heard of many people who have sold their old comics for just pennies only to find out later that they were worth a fortune. (Of course, we've also had to tell many eager people that their comics weren't worth very much. There are both highs and lows in the world of collectibles).
If you're not sure, having us appraise your comics is a great first step. Don't throw away good money.
Find the obsessed comic book collector
If we determine that your comic is a worthwhile then selling it at one of our auctions is one of the best ways to ensure you get your money's worth. We can put you in touch with serious collectors who are willing to bid top dollar for your comic and who will understand the place each item holds in their overall collection. They are willing to pay what the item is worth.
You won't find the same if you try to go it alone…not without a lot of time and effort that you might not want to go through. Comic shops generally are not going to buy highly collectable comics as they don't have a way to sell them to their target audience. Even if you can sell the comic to them they want to make a profit, so they're going to give you the full value of the item. If you try to sell to eBay you're dealing with an audience of bargain hunters, not an audience of collectors.
Don't sell at a price you'll regret. Let us do the work
Working with us allows you to keep more of your money. It also allows you to sell your comic books in a stress-free way. Wondering if you've got a real treasure tucked away in that old shoe box? Contact us today to get started.
"I was very impressed in the ease of how Wayne took care of everything for us. From the moment that we spoke to after; he was polite and informative in all my questions, most professional. Would recommend his auction to everyone, whether buying or selling, he is the one you will want to go to."
—Helen Dawes, Kansas City, MO (read more on Facebook)