You may someday find yourself having to sell the contents of home whether it may be a decedent estate, when downsizing or for a wide variety of other reasons. It's often asked whether an estate sale or auction is the best method to sell these belongings.
What works well in one area of the country may not work well in another area. My comparisons are based on my experience with over 25 years of selling estate contents in Massachusetts and throughout New England.
The pros of an estate sale are that you can sell almost everything in the home from antiques to dish towels. You may set a minimum price that you are willing to accept for certain items. A good estate sale company will notify past buyers and advertise your sale to draw as many people as possible. They will also post signs to attract area passersby to your sale.
Estate sale cons are that you aren't likely to find buyers willing to pay as much for rare items such as antique paintings, coins and estate jewelry at this type of sale. Estate sale items often sell below the prices which they are initially tagged. Prices may get decreased when a willing buyer makes a reasonable lower offer or prices are dropped after the item has drawn little interest. Estate sale pricing is more of an art than a science. The estate sale company needs to be very knowledgeable with pricing. If items are priced too low, potential profit may be lost. If they are priced too high, items won't sell. Even when things are priced well, there typically is much that remains unsold.
Auction pros are that you have competitive bidding which drives prices higher until they reach "fair market value" for the particular item at that point in time. Rare and valuable pieces may draw bidders from around the United States and even around the world resulting in strong prices. In Massachusetts, and many other states, auctioneers must be licensed and bonded. Consignors are also able to attend the auction and see what each of their items fetches.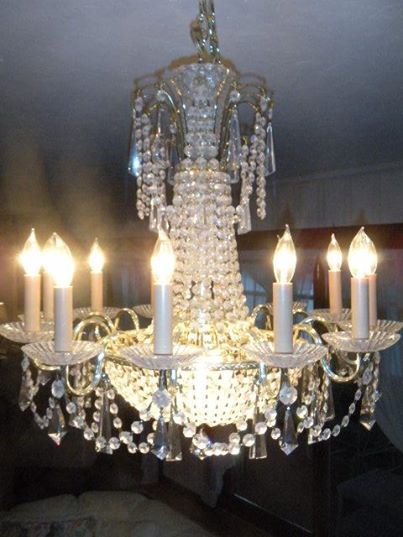 This Chandelier brought nearly $900 at an
in-home sale
An auction con is that it often isn't the best venue to sell contemporary furniture and household items. Even more desirable contemporary furnishings, household items and collectibles may not sell as well at auction as an estate sale.
Is an estate sale or auction better? It really depends on the circumstances. We often use a combination of removing more valuable pieces for sale at our live auctions while selling other items at an in-home estate sale for our clients. An on-site auction or online estate auction are other methods that may also be used under the appropriate circumstances.
As with anyone else you hire to perform a service, do your homework when hiring an auctioneer or estate sale company. Referrals from people you know are best but ask for referrals from the company as well. It's very important that the person you hire is knowledgeable in evaluating your items. Check their credentials. How long have they been in business? Check to see if they are members of any professional organizations. As mentioned, Massachusetts auctioneers are required to be licensed and bonded. Also check to see if the company is insured. It is difficult when handling the estate of a loved one. The more information you have, the more comfortable you will be that you are making the right decision.
Contact us at: Central Mass Auctions – Wayne Tuiskula Auctioneer/Appraiser – Estate Specialists: Antique Estate Auctions, Estate Sales and Appraisal Services www.centralmassauctions.com   (508-612-6111), info@centralmassauction.com.
If you have any questions about antique auctions and estate sales, call Wayne Tuiskula, Auctioneer/Appraiser at 508-612-6111 or email us today.
Our articles are published in the Webster Times, Spencer New Leader, Auburn News, Blackstone Valley Tribune, Charlton Villager, Killingly Villager, Putnam Villager, Sturbridge Villager, Thompson Villager and Woodstock Villager.