As our name suggests, we're based in Massachusetts – with offices in Worcester and Boston. We hold estate sales and all kinds of auctions throughout the entire Bay State, and have worked with clients in most communities in Massachusetts over the last couple of decades. Here are the places we've worked so far: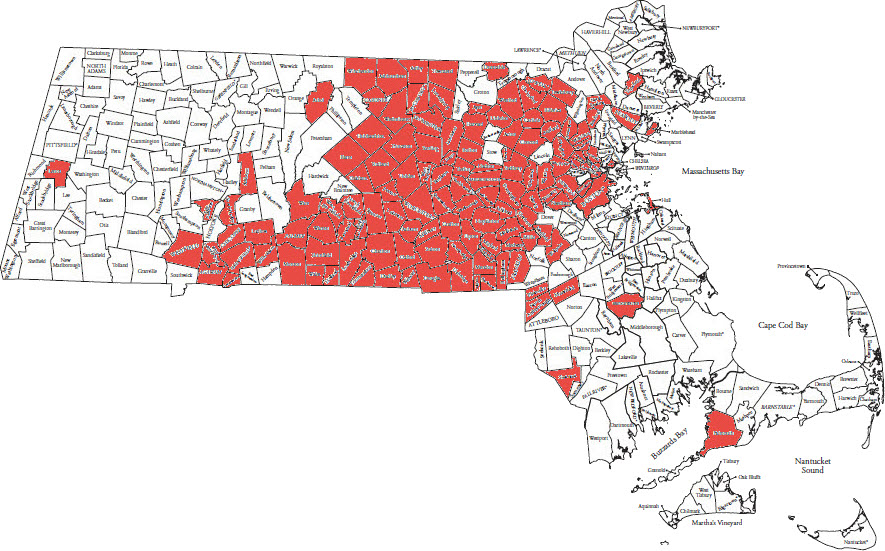 We've run antique dealers and have run estate sales here for over 30 years, have run auctions here for over 15 years, and have run online auctions since 2011.
As a local company, we know the ins and outs of selling the contents of a Massachusetts estate, and have an extensive list of local buyers (more extensive than what non-local companies might have).
Whether you're the personal representative for your estate or just think you may have some valuables in your garage, we can help you get the maximum value for your estate contents.
For more information about estate sales and auctions, please call Central Mass Auctions at 508-612-6111, or email us through the contact form below.
Wayne and Central Mass Auctions are extremely professional in handling estate merchandise at auction. Honesty and knowledge are Wayne's trademarks. I have had only great experiences as a consign or and as a buyer.
—Morris Bergman, Worcester (as reviewed on Facebook)
"Wayne Tuiskula, president of Central Mass Auctions, as well as his employees, helped my family so much in 2005 when my parents had passed away and leaving quite a large estate in Sudbury. He made it so easy in appraising, moving and auctioneering off a vast amount of furniture and antiques (my Dad was an antique collector) during a sensitive time in my life. I've worked with him for the past 10 or 11 years consigning antiques and jewelry and have the highest regard and praise for his honesty and ability to obtain a fair price during the many transactions with him. I've dealt with other companies and by far he is the best."
—Audrey Capuano (as reviewed on Google)
"Wayne certainly knows his antiques, no question about it. He looks things over precisely, remarks on the condition and then tells you what he thinks it is worth. I wouldn't trust anyone else with my antiques, Wayne is the best."
—June Barrus Kemp, Leicester (as reviewed on Facebook)
"Wayne Tuiskula is the most dedicated, hard-working auctioneer I know. Central Mass Auctions painstakingly liquidated my 4800 square foot warehouse filled three tiers high with all range of furniture, fine art and decorative accessories. He did so in an organized, comprehensive manner. He fulfilled every promise he made to me. And as a kind, thoughtful and fair businessman, Wayne readily became my hero. I recommend him not only to anyone seeking the best value in auctioning a single item, but particularly to anyone facing a seemingly impossible task."
—Heidi Pribell (as reviewed on Google)
"What an amazing job by Central Mass Auctions! They let me know the exact date of the auction, which involved my mom's jewelry, well ahead of time. They promised a payout time that they perfectly adhered too. The payout was also much higher than I expected. Kudos to Wayne T. and his team for doing such a great job!"
—David H., Arlington (read more on Yelp)
"Wayne and his associates are real life savers. My in -laws ran a bed and breakfast for over 30 years and accumulated a tremendous amount of antiques, collectibles and other "stuff". As a result of sudden medical conditions we had to liquidate the bed and breakfast quickly. I called Wayne and he came right out and his associates went through and organized the entire house and outbuildings and conducted an estate sale within a matter of weeks. As a result of their established connections and reputation hundreds of people attended the sale. I would highly recommend Wayne and his associates."
—Russ A., Wilbraham (read more on Yelp)
"I am so impressed with this company, and all the people that work for it. I stumbled upon an auction they were hosting, and went several times to the event they held over a couple days. Not only was everything extremely well organized but the way in which it was held was impressive.
This auction happened to be an estate auction, they had information both on line and in person. They were respectful, pleasant, flexible, and just all around trustworthy. One of the items I bid and won in this auction was extremely expensive. The whole thing couldn't have been more smooth and I got exactly what I was expecting and what was described. In fact Wayne went above and beyond.
If there ever comes a time I need to hire a company to sell my items, Wayne would be my first call. As a buyer, I wouldn't hesitate from buying again. Just great people!"
—Candace K., Littleton (read more on Yelp)