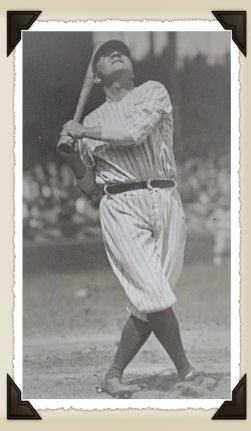 Babe Ruth
After the conclusion of World War I in the United States, the 1920s were a time of prosperity. Often referred to as The "Roaring 20's" they are also considered a time of excess. There was an abundance of money and leisure time in America. Many associate these times with flappers, bootleggers and marathon dances. With the country thriving, Americans turned their attention to sports. Many of the athletes of the 1920's remain well known by most people today.
Babe Ruth pitched for the Red Sox but is most well known for hitting 714 home runs, a record that lasted until Hank Aaron broke it in 1974. Jack Dempsey was a heavyweight boxing champion and cultural icon with a 66-6-11 record. During the 1920's Bobby Jones racked up trophies as an amateur and is one of the most well known golfers in history. College football was also very popular. Red Grange, the 3 time All-American, averaged over 5.3 yards a carry while at Illinois before becoming a pro. Bill Tilden was dominating the tennis world during this time. He was the number 1 player in the world for 7 years.
In our January auction, we were commissioned to sell a group of press photos from the Golden Era of Sports. Press photos were distributed to newspapers to accompany articles and were distributed by sources such as the Associated Press and United Press International. The wire services sent the articles to the editor of a local newspaper. His descendants asked us to sell them.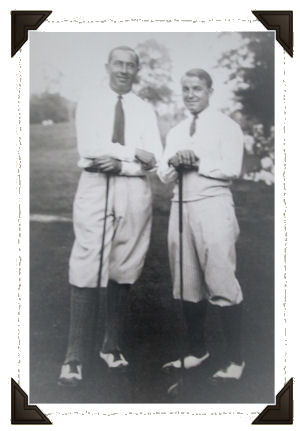 Gene Sarazen
Golf photos brought strong prices at auction. A single photo of Bobby Jones as a 19-year-old amateur sold for $525. A group of 7 photos of Gene Sarazen including one with Walter Hagen brought $475. Sarazen won the PGA Championship and U.S. Open in 1922 and was a member of 6 Ryder Cup teams. During the 1920's Hagen won the British Open 4 times, the PGA Championship 5 times and captained the Ryder Cup 6 times. Other golf photos fetched $425 and $300.
Baseball photos also drew considerable interest. A 1928 Opening Day photo of Lou Gehrig, Tris Speaker, Ty Cobb and Babe Ruth brought $400 as did a 1922 photo of Ruth hitting. Other Ruth photos drew plenty of bids as well. 4 photos of Ruth in non-baseball moments including a wrestling workout brought $600. A Yankees team photo and 1928 World Series photos brought $575.
College football photos that included Red Grange sold well at $475. Groups of boxing great Jack Dempsey photos brought $240 and $200 respectively and Gene Tunney photos brought $180. Tennis player photo groups that included Bill Tilden and Helen Wills realized $160 and $110. Several race horse photos brought $210 and mixed photos including land speed record holder, Ray Keech, sold for $160.
The total was over $10,000 for photos that easily could have been thrown in the trash over the past 90 years. Fortunately, the family kept them and they will have some additional funds at their disposal after their move out of state. As they enjoy the golf courses in the South, they will know that Bobby Jones is paying for a few of their rounds.
If you have any questions about antique auctions and estate sales, call Wayne Tuiskula, Auctioneer/Appraiser at 508-612-6111 or email us today.
Our articles are published in the Webster Times, Spencer New Leader, Auburn News, Blackstone Valley Tribune, Charlton Villager, Killingly Villager, Putnam Villager, Sturbridge Villager, Thompson Villager and Woodstock Villager.