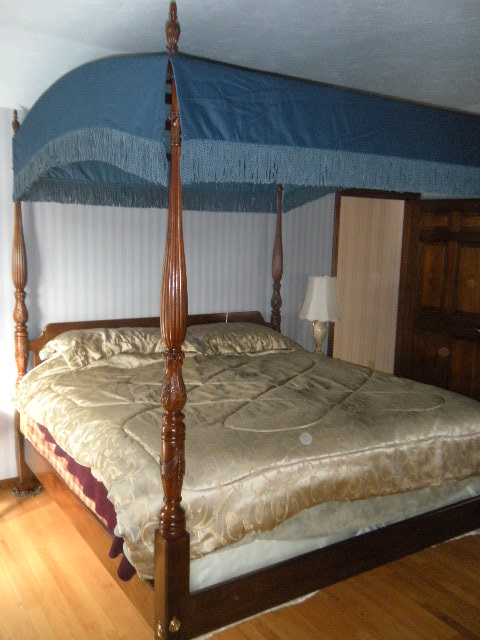 Contemporary canopy bed brought $800
at one of our in-home sales
I offered advice for estate sale and yard sale buyers in a column last fall. I thought I'd share some tips with sellers this time. There are many things that a seller can also do to make their estate sale more successful.
First, take an honest evaluation of what you have to offer. What are some of the items that will attract people to your sale? Antiques and tools are two examples of things that will catch buyers' attention.
A sale should be advertised well. This newspaper and others list estate sales that are taking place locally. The garage sales section of Craigslist is another good place to list your sale.
You should post signs at the sale and at nearby intersections that are easily readable. They should have the address date, time and anything that you think will help get buyers to notice. An example is, "Moving Sale – Many Power Tools".
Check local ordinances for any restrictions on signs and other local regulations as well. Some towns require that you buy a permit to run a sale.
If you have a small sale, you may be alright with pricing items yourself. If you think something is valuable, you can always have it appraised.
When you have a more valuable estate, hiring a company to run your estate sale may often be a better solution. I've been to many sales run by individuals where prices were too low or too high. If the prices are too high, items won't sell and you are left with a house full of items. If you price things too low, your sale will generate less money than it should. If you have a valuable collection or a number antiques hiring a trusted professional may be a wise decision. A knowledgeable estate sale specialist will know how to price items in your area.
A good estate sale company will promote your sale well. They should take the same measures that you would take such as listing the sale in newspapers and posting signs. They should also promote it on their website and on pay and free websites used by estate sale professionals.
An estate sale company that is in business for some time should also have a list of past buyers. They will contact these past buyers and inform them of the upcoming estate sale.
An estate sale is a great way to sell things but, as I've explained in the past, it isn't always the best way to sell everything. We run live auctions regularly where we can sell high value items that might not get the right buyers at an estate sale.
I became an auctioneer because I had attended auctions and consigned items. I found it to be a way to get "fair market value" for my items. It's a method that has stood the test of time. Numerous sources report that auctions were recorded in 500 B.C. Wives were being auctioned in Babylon and it was against the law to allow a daughter to be sold other than at auction. Auctions are still thriving today. Fortunately, they are now being used to sell antiques and other property.
Contact us at: Central Mass Auctions – Wayne Tuiskula Auctioneer/Appraiser – Estate Specialists: Antique Estate Auctions, Estate Sales and Appraisal Services www.centralmassauctions.com   (508-612-6111), info@centralmassauction.com.
If you have any questions about antique auctions and estate sales, call Wayne Tuiskula, Auctioneer/Appraiser at 508-612-6111 or email us today.
Our articles are published in the Webster Times, Spencer New Leader, Auburn Mass Daily, Blackstone Valley Tribune, Charlton Villager, Killingly Villager, Putnam Villager, Sturbridge Villager, Thompson Villager and Woodstock Villager.