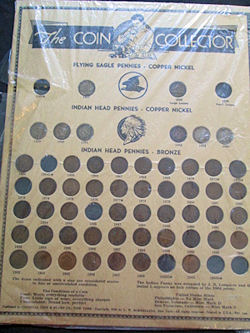 Flying Eagle & Indian Cents including
1877 brought over $2,000
A California couple recently stumbled across tin cans full of gold coins worth around $10 million! The couple contacted an auctioneer to offer the coins at auction instead of selling them privately. There are many reasons to auction coins, estate jewelry, antiques and other valuable items.
If you are the personal representative (executor) of an estate, you have a fiduciary responsibility to obtain fair market value when selling personal property. A well promoted auction offers coins and other personal property to a wide audience of collectors and dealers. Offering the coins to one or multiple potential buyers in a private sale isn't the same as having a room full of interested collectors or dealers trying to be the winning bidder. The competitive bidding that takes place ensures that the consignor is getting a fair price for the items with which they are entrusted. The auctioneer works for a consignment fee and wants to get the highest prices for the seller as well.
Another auction advantage is transparency. A reputable auction company will provide the consignor with a list of what each lot sold for after the auction. Consignors may also choose to attend the auction and see what their items bring.
Most collectors tend to focus on a particular area. Someone may try to collect all versions of the Lincoln cent. Others may collect "type coins". For example, they may try to have one example of each type of quarter from a late 1700's/early 1800's Draped bust variety to state quarters from the 21st century. Others may focus on Canadian or other foreign coins. Collecting tokens or paper currency is another area of specialization. When a large collection of coins is auctioned, items will be lotted (grouped for the sale). More valuable coins are sold individually and similar items may be combined. This offers the individual collector the opportunity to buy only the items that they collect. Selling items individually, or in small groups, to a large number of collectors and dealers will result in stronger prices than selling the entire collection to one individual.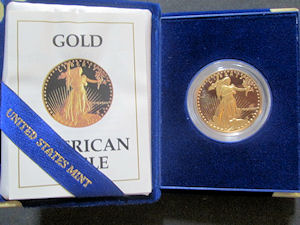 1987 U.S. Eagle Gold Proof Coin sold for
over $1,700
Last summer I found a large coin collection in a local estate. The first coins were tucked away in a cookie tin and coffee tins in the cellar. A family member told me that what I found was just a small amount and there were many more coins in the attic!
Around the same time, we were also contacted by another estate personal representative (executrix) from an estate with even more coins. We decided to run a specialty coin auction in August. A specialty auction is one that focuses on one area instead of a typical auction that features all types of antiques and collectibles. Specialty auctions typically draw a smaller crowd but coins are very popular now and we still had a great turnout.
The collection brought strong prices with an Indian cent board, including an 1877 penny bringing over $2,000. A 1987 U.S. Gold Eagle proof coin brought over $1,700, a 1908-D Barber half dollar sold for $500 and an 1884-P draped eagle seated liberty quarter realized $435.
The find may not have been on the same scale as the recent California discovery but the consignors that attended were smiling at the end of the auction after seeing their silver coins bring them a lot of green.
If you have any questions about antique auctions and estate sales, call Wayne Tuiskula, Auctioneer/Appraiser at 508-612-6111 or email us today.
Our articles are published in the Webster Times, Spencer New Leader, Auburn News, Blackstone Valley Tribune, Charlton Villager, Killingly Villager, Putnam Villager, Sturbridge Villager, Thompson Villager and Woodstock Villager.